Easy To Use Wet Dry Vacuum Cleaner Rentals
Cleaning and maintaining any office or business is a lot of work, but with the help of Hillyard Mid-Atlantic's cleaning equipment services things can be made much easier. Every cleaning closet should have an industrial wet/dry vacuum on hand for particularly tough spills or messes. Thankfully, the wet dry vacuum cleaners available can handle virtually any sized project.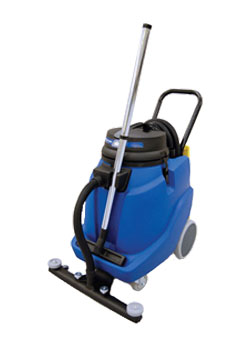 Deluxe Commercial Wet Dry Vacuum
The commercial wet dry vacuum provided is easy to operate, fast to train in usage, and simple to repair. The tanks, hoses, filters, and wands have all been designed to offer high mobility and ease of access to prevent frustration and tangling during typical use.
Customer satisfaction is key, so machines are guaranteed to work dependably and efficiently. Wet and dry messes will be a thing of the past when you have a good, reliable commercial vacuum ready on hand. If a particular make or model is not shown in our company inventory, special orders can be placed by contacting our sales office. We are dedicated to getting you the cleaning equipment you need.
Industrial Vacuum Cleaner Rental Available Throughout The Mid-Atlantic Region
If your needs for commercial wet vacs are only required on a temporary occasion, Hillyard Mid-Atlantic conveniently rents out their equipment on a provisional basis. Daily, weekly, and even monthly rates are available to provide the cleaning tools when you may need them the most. Maintenance programs also may be included with the equipment, when rented on an extended basis. Any questions on pricing rates can be conveniently answered with a quick call to our office.
In addition, Hillyard Mid-Atlantic doesn't simply hand over the industrial vacuum cleaner rental and send you on your way; we provide comprehensive training programs. General maintenance, safety, and operating instructions are covered in addition to specific tips regarding the commercial wet vacuums for rent. There are a few innovative adjustments and attachments with each machine, and it is best to know the full function of each.
Wet Vacuum Cleaner Repair
In the unfortunate event in which a commercial vacuum cleaner malfunctions the professional staff of Hillyard Mid-Atlantic should be the first to call. We have highly qualified staff providing excellent customer service; our years of hands-on experience in the cleaning field testifies to our superb work.
In case there is an emergency, a repair technician can be dispatched to your location. Typical response time is between 24 and 48 hours so you know that help is on the way. On-site repair will ensure that you are up and running again quickly; most issues (around 80%) are solved at the location. In the case that the repair cannot be completed immediately loaner machines will be provided so your work doesn't need to be put on hold for any longer than it needs to be. Thankfully, the high quality of the wet/dry vacuum cleaners for sale should allow the machines to go for several years of regular usage before any repairs are needed.
Contact Us To Rent Our Wet Dry Vacuum Cleaners!
We service many brands of industrial vacuum systems and have an extensive parts inventory for a wide variety of machines. We offer the best that you can get! With affordable rates and excellent maintenance offerings, you can't go wrong Hillyard Mid-Atlantic! Contact us today!