Top-Rated Commercial Floor Buffers
Hillyard Mid-Atlantic provides customers with commercial floor buffers & burnishers that help clean & bring a shine to offices, commercial buildings, and large industrial spaces. Cleanliness and appearance is a very important part of maintaining your interior, but you must find a floor buffer machine that fits your budget & facility. We rent, sell and repair floor buffers and burnishers on-site or in our shop.
You'll become more efficient with the proper commercial cleaning equipment; let Hillyard Mid-Atlantic's commercial floor buffing rentals & burnishers help transform your office or warehouse now!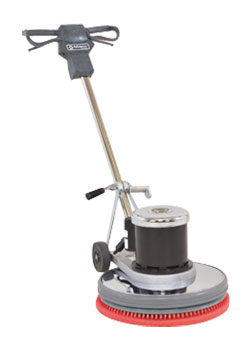 Tips For Choosing Your Flooring Buffing Rentals:
Cord Electric Floor Buffer Machine and Burnishers
You want to purchase a floor buffing rental that is easy to use and suits the size of your facility. There are many different types of buffers to choose from. Cord buffers often come with sufficiently long cords, which can be powered easily by an electric outlet. Cordless burnishers, on the other hand, have battery packs that allow you to move more freely, such as walk-behind or ride-on burnishers. You may also choose low-emissions propane-powered burnishers which provide the quickest most efficient way to put a shine on a properly finished floor. Whichever you choose, Hillyard Mid-Atlantic can provide you with a smart cleaning solution.
Hillyard Mid-Atlantic has commercial floor buffing rentals & burnishers that you may use for just a couple of days, weeks, or months. Semi-annual or quarterly cleanings are common in large facilities, and you may rent your commercial floor buffer at any time. The rental contract lasts the precise number of days you need, and you may extend your contract at any time. Pick up the buffers, clean your facility, and return the buffers at the proper time. You save money on cleaning and avoid the inconvenience of storing burnishers you rarely use.
Contact Us For Your Commercial Floor Buffer Machines & LPG Burnisher Repairs!
We can assist with service, parts, and repairs for your cord electric buffer or LPG Burnisher. Proper maintenance of your machine will help extend the life of your equipment, and you will avoid the expense of replacing your machine prematurely.
We understand that you must get back to cleaning your floors quickly, so all repairs are completed in a timely manner. Ask Hillyard Mid-Atlantic for help with your commercial floor buffer machine when you notice problems, either bring it in for a quick repair, or we can come to your location and fix the equipment on-site! Our company is outfitted with six sprinter trucks, thoroughly stockpiled with replacement parts for your convenience.
Hillyard Mid-Atlantic is the best location for renting, buying, or repairing floor buffing equipment. We offer buffers & burnishers to fit any company's budget, so contact us today.