The Best Commercial Floor Scrubber Rentals in The Mid-Atlantic Region
Looking for commercial floor scrubber machines? Then look no further than Hillyard Mid-Atlantic! We have a wide selection of new and used industrial floor cleaners available, as well as all the parts and accessories you might need. Not to mention, we carry a full line of replacement parts for most floor cleaning equipment, so we can also help you keep your equipment in proper and safe operating condition. Whether you're just getting started in the commercial cleaning industry or you're a seasoned pro, we have the floor scrubber rentals you need to get the job done right. Plus, our team is always available to answer any questions that may arise. Contact us today to learn more about the commercial floor scrubbers we have available to rent!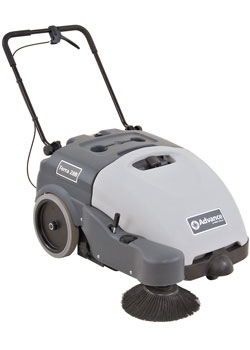 Take Your Pick Of Top-Rated Industrial Floor Cleaners From Hillyard Mid-Atlantic
Our industrial floor cleaners are easy to use and are perfect for any size job. With various rotating brushes, our commercial floor scrubbers pick up debris and grime quickly and easily. The pan is also removable for quick and convenient disposal. Our walk-behind floor scrubber rental has a low-profile design so that it can access spaces below furniture easily. It can also be used safely on all types of flooring, like linoleum and hardwood. When it comes to keeping your industrial and commercial space clean, renting an industrial floor cleaner from Hillyard Mid-Atlantic is the perfect solution. Call today to get a quote on renting a sweeper for this weekend!
Clean Your Space Easily With Our Floor Scrubber Rentals
Whether you're looking for a floor scrubber rental or to purchase a used one, Hillyard Mid-Atlantic can help you select the perfect piece of equipment for your needs. Our commercial floor scrubbers come with onboard battery chargers, traction assistance, powerful filter shakers, adjustable broom height, and extremely quiet operation. These features can be great for speeding up your sweeping process to just cleaning edges more efficiently. Our floor scrubber rentals are ideal to use in office buildings, universities, hotels, gyms, hospitals, train stations, and airports. Some of our industrial floor cleaners can even enhance the air quality with strong polyester panel filters or optional heap filters that can help catch more dust particles. If you need to rent our commercial carpet sweeper for this weekend or week, fill out an online form to get in touch today!
Call Hillyard Mid-Atlantic To Rent Our Commercial Floor Scrubbers Today!
If you're looking for commercial floor cleaning machines, Hillyard Mid-Atlantic should be your first call. We provide reliable and detail-oriented services for all our floor scrubber rentals, so you won't have to worry about your machine not working properly. Instead of buying expensive commercial cleaning equipment, save money and time by renting one of our commercial floor scrubbers instead. We are constantly updating our industrial floor cleaners, so you can have peace of mind and get your project completed quickly. Call 1-877-369-1408 today to rent your commercial floor scrubber for this weekend! We look forward to making cleaning easier for you!