Best Commercial Floor Sweeper Rentals in Mid-Atlantic Region
When you need to rent or buy cleaning equipment, Hillyard Mid-Atlantic can accommodate all of your needs. If you have commercial cleaning work in your future and want to make the process as effective and convenient as possible, there's no better option than to check out all of the automatic sweeper machines we have available to you. We even sell specific parts associated with most floor sweeping equipment. Note, too, that we sell used and brand new cleaning machines alike.
If you need a commercial floor sweeper on a permanent basis, you don't have to fret. Simply check out our various floor sweepers for sale. Floor sweepers aren't the only example of cleaning equipment we have for sale. Contact Hillyard Mid-Atlantic today for an industrial floor cleaner to rent!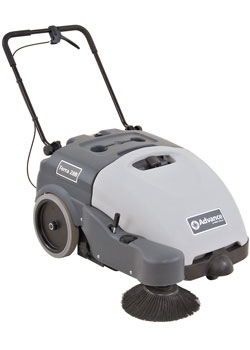 Select The Finest Industrial Floor Cleaners With Hillyard Mid-Atlantic
Our available commercial floor sweepers are extremely easy to use. They're generally equipped with various rotating brushes that pick-up debris and grime from the floor into a pan that can be taken out. Since this pan is removable, it makes the disposal process a markedly quicker and more convenient task. Walk-behind floor sweeping machine typically has low profile designs. This is to make it much easier for them to access spaces below furniture. Our floor sweeper rentals can generally be safely used on all different kinds of flooring. Some examples of floors that are suitable for our sweepers include both linoleum and hardwood.
If you have a specific idea in mind about the type of industrial floor cleaner you'd like to use, we can help you select the perfect one.  Features that are associated with our sweepers include onboard battery chargers, traction assist, powerful filter shakers (important for good indoor air quality), adjustable broom height, and extremely quiet operation. These features can be great for everything from speeding up the sweeping process to cleaning edges more efficiently. Some of our sweepers enhance air quality with strong polyester panel filters or optional heap filters that catch dust particles. Our commercial floor sweepers are terrific for all different types of applications. They're commonly used in office buildings, universities, hotels, gyms, hospitals, train stations, and airports, to name a few examples.
Call Hillyard Mid-Atlantic To Rent Our Commercial Floor Sweepers Today!
When you need a reliable business that rents and sells commercial and industrial floor cleaners such as floor sweeper rentals, Hillyard Mid-Atlantic should be number one on your list of places to call. Don't forget that we provide diligent and detail-oriented repair services for these kinds of machines, as well. When it comes to powerful cleaning equipment, there isn't much our talented technicians can't accomplish. Call Hillyard Mid-Atlantic today at 1-800-232-3666.