Commercial Power Washers
Looking for pressure washer sales and service? You've come to the right place! Our pressure washers are designed for heavy-duty commercial and industrial applications. We offer both cold and hot water pressure washer machines that are high-performance and easy to use. Whether you are looking for a small electric unit, gas unit, or large multi-pump system, we offer the leading models of pressure washers by Nilfisk/Alto and Epps. We have pressure washers for sale or rent and can service or repair most industrial power washers at your location. If you're looking for power washers or any other cleaning equipment for sale, call us now. See below for the different types of commercial pressure washing equipment offered.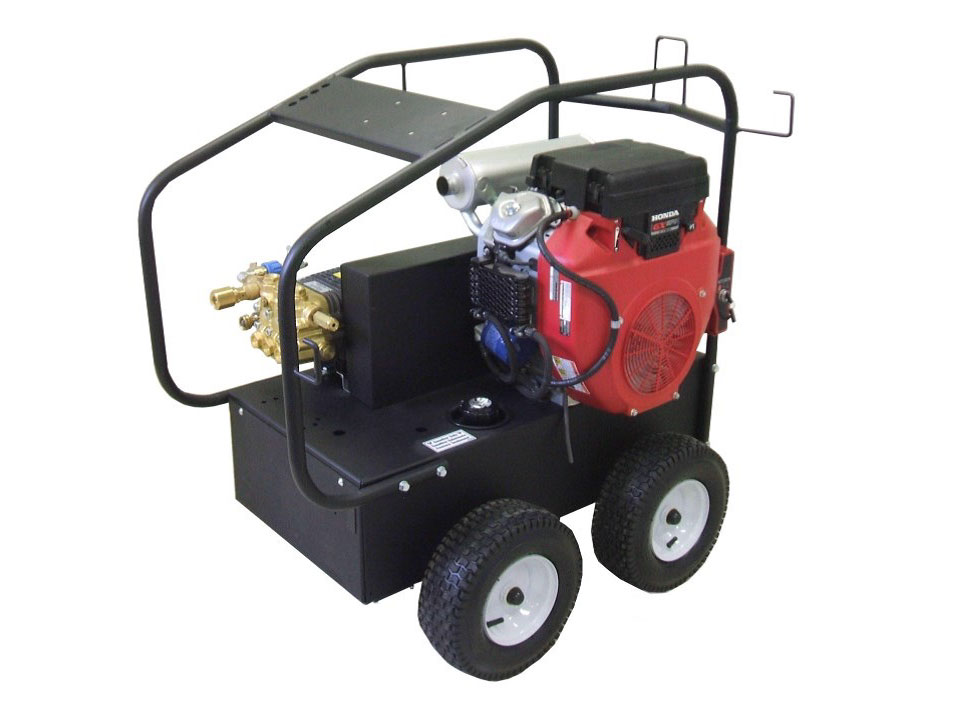 Cold Water Pressure Washers
Our cold-water commercial pressure washers are suitable machines for all demanding cleaning tasks in industries like agriculture, industry, transport, and construction. The intense water flow of our cold water power washers makes it very useful for applications where a high level of dirt has to be removed or flushed away.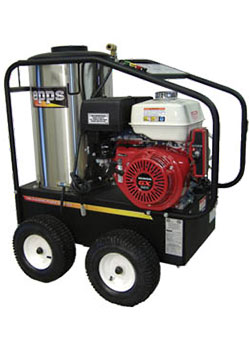 Hot Water Electric Pressure Washers
Our hot water pressure washing machines provide the latest technology and cleanest burners on the market for total customer satisfaction. Every job is different and we can specify the correct high-pressure power washer for customers looking for an optimal outcome for tough grease and oil – a job well done the first time, every time!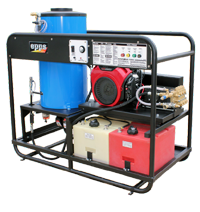 Industrial Hot Water/Steam Pressure Washer
We also offer the option of steam on any of the industrial-grade oil or LPG fired industrial power washer units, perfect for your tougher, heavy-duty cleaning jobs that will benefit from the added power of continuous hot water or steam. The steam option also uses less water so they're ideal for any location where optimal cleaning power is needed, and low water volume is required. Our industrial steam cleaning systems can withstand any tough cleaning application you may have. We know you will love the cleaning results that wet steam offers!
Electric versus Gas Pressure Washers: How to Decide
When it comes to deciding between an electric or gas pressure washer, it's important to consider some of the notable differences between the two so you can make the best choice for your needs. While both electric and gas pressure washers are quality machines, they have a few differences that consumers should be aware of before making a purchase.
Weight: Electric pressure washers are lighter, therefore easier to move. If frequently needing to move your pressure washer is important to you, an electric pressure washer may be the best choice. However, some consumers appreciate the weight of gas pressure washers because they're more stable.
Power: Gas pressure washers will deliver power than their electric counterparts. If extra power is something you value, a gas pressure washer is for you. However, it's important to consider that electric power washers are not limited in their ability, it's just that gas are stronger.
Indoor Use: If you plan to use your pressure washer indoors, then electric is what you need. Gas pressure washers release fumes that need to be properly vented.
Movability: Electric pressure washers require connection to an outlet therefore they can be somewhat limiting when it comes to their ability to be moved around. Gas pressure washers don't have that limitation.
Commercial Power Washer Repairs, Sales & Rentals
Hillyard Mid-Atlantic helps you enhance every single aspect of your cleaning operation so that you can clean faster and more efficiently. To ensure this high level of productivity, your commercial power washers should be serviced and maintained for them to run smoothly. That's why we perform on-site maintenance and repairs, for the most efficient outcome. Our trained personnel are certified to execute whatever service or repair your pressure washer machines may need. Our fleet of service trucks is on the road daily to get to your location and fix any issues you're having as soon as possible. We carry a large supply of pressure washer replacement parts along with us, so we can usually correct any problems while on the site.
We have power washers for sale to help you clean any size commercial job. If there is a specific commercial pressure washer you have in mind just let us know.  Hillyard Mid-Atlantic is here to help.  Call us today!