Reliable Floor Scrubbing Machines in The Mid-Atlantic Region
At Hillyard Mid-Atlantic, we are dedicated to providing quality cleaning rental equipment and repairs to businesses just like yours. The floor scrubbing machines we offer can be used for cleaning hard floors efficiently. Unlike manually cleaning a floor, walk behind floor scrubbers are powerful enough for most applications and will leave your floors sparkling. No matter if you are looking for an auto scrubber rental to help you clean the floors of a hospital, school, shopping mall, factory, or warehouse, the equipment we have here at Hillyard Mid-Atlantic can help. Contact our team today to learn more about renting our ride on floor scrubbers!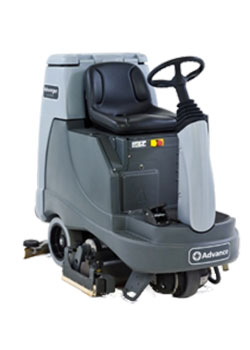 First-Rate Ride On Floor Scrubbers
When it comes to auto scrubber rentals, our team is happy to offer two unique models. These include walk behind and ride on floor scrubbers. We recommend our ride on floor scrubber machines when you are cleaning open areas that require a wider cleaning path. This model features several cleaning heads and large capacity reservoirs. Not to mention a rechargeable battery that features up to 5 hours of operation on a single charge! If you are interested in renting this particular auto scrubber model, fill out an online form to get in touch with our team today!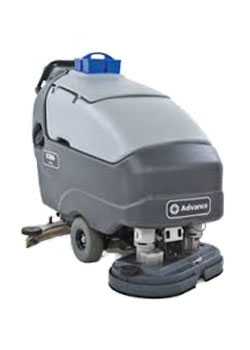 Walk Behind Floor Scrubbers To Make Your Floors Spotless
If you are looking for a more compact floor scrubbing machine, our walk behind floor scrubbers could be a better option for you. The cleaning path offered with this rental is anywhere from 17-30 inches. This commercial floor scrubber model easily navigates through doorways and other tight spaces. And it has a larger tank, so you can empty it less and take more time to clean. Call our team today to secure your walk behind floor scrubber rental!
Fast & Efficient Auto Scrubber Repair
In addition to renting quality floor scrubbing machines, our team also offers auto scrubber repairs. If you already have a walk behind or ride on floor scrubber machine, we can easily perform regular program maintenance or come out to your location to repair your machine on site. We offer a large selection of replacement parts, and our service trucks have a quick 48-hour turnaround window so you can get the auto scrubber repair you need quickly and easily. If you need repair for any of your cleaning equipment, call today to schedule a maintenance appointment!
Know that you need to use a floor scrubbing machine regularly for work or your business? Check out our used equipment page to get an auto scrubber that has been refurbished. All our used equipment is repaired in-house and tested to make sure it works properly. Save money on your future cleaning needs by investing in a used floor scrubbing machine today!
Rent One Of Our Floor Scrubbing Machines Today!
When it comes to keeping hard floors clean, using an auto scrubber rental is the best way to achieve it. No matter if you choose a ride on floor scrubber or a walk behind model, we guarantee that this automatic scrubber will scrub your floors to perfection. We are constantly updating our rental equipment, so our customers can have the peace of mind that comes with knowing that their piece of equipment is safe to use. Save valuable time and money on your cleaning needs when you partner with Hillyard Mid-Atlantic. Reach out to our team today to secure your floor scrubbing machine rental for this weekend!