Automatic Floor Cleaning Machines
Auto scrubbers for industrial and commercial use can clean hard floors efficiently with minimal work. Unlike manually cleaning a floor, commercial scrubbers are powerful enough for most any application and our floor cleaning equipment is second to none! You will find these auto floor scrubbers for rent, and this option might be preferable if you're needing a onetime application. If you need routine powerful cleaning of your commercial or industrial floors, the various floor scrubbers for sale might be a better solution. We also provide in-house repair services, so if your machine is broken or just needs a routine maintenance check, we are equipped to handle it at your location.
Whether you are cleaning the floors of a hospital, school, shopping mall, factory or warehouse, you need powerful equipment. Your time is valuable, therefore scrubbing an industrial or commercial floor by hand is not a practical solution. Scrubbers should be easy to maneuver and powerful enough to clean deep-down dirt and grime. If you're considering the purchase or rental of industrial floor scrubbers, contact Hillyard of Lancaster County to find the best solution to your needs.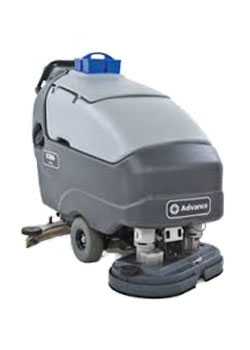 Walk Behind Floor Scrubbers
With a walk-behind auto floor scrubber, your cleaning path may be anywhere from 17-30 inches. Commonly, the walk-behind units are designed with 1-2 cleaning heads for scrubbing. Typically, the reservoir in the walk-behind models has a smaller capacity than the larger ride-on options. Larger tanks mean less frequent emptying and filling, so you need to keep this in mind when choosing your scrubber machine. The walk-behind scrubbers are generally easy to move through doorways and tight spaces, and these may run on electricity or battery power.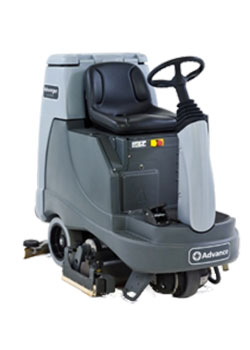 Ride-On Floor Scrubbers
The ride-on floor scrubber machines are best suited for open areas that require a wider cleaning path. Modern ride-on automatic scrubbers can still be compact like the walk-behind models. However, these scrubbers often feature several cleaning heads and large capacity reservoirs. The rechargeable battery may feature up to 5 hours of operation on a single charge – floor scrubbing made simple!
Automatic Floor Scrubber Considerations
While the price point may be a consideration, it should not be a deciding factor. Think about your needs and shop or rent accordingly. For ease in cleaning and time-saving features, check the speed and down pressure of the rotating brush heads. These machines are available in disk, orbital or cynical models.  A reliable machine will cut your cleaning time significantly.
Another feature you may find useful is an integrated battery charger. This option allows you to plug your machine into an electrical outlet for charging without transporting the machine back to a central charging station.  Most auto scrubber machines include the batter already installed, however, these machines come with a variety of battery options to choose from.  Want to save time and money, then contact Hillyard Mid-Atlantic today to find the best option that suits your needs.
The cleaning path of the automatic scrubber should scrub and dry the floor completely, while the operator moves forward.  This means less effort on your part, whether you are using a walk-behind or ride-on machine. An ergonomically designed machine can reduce work-related repetitive motion injuries. Keep all of these factors in mind when choosing your new commercial floor scrubbers or Lancaster equipment rental.